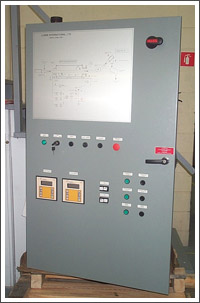 At SCP Proneq, our mission is to provide high quality automation solutions tailored to the needs of our customers.
We specialize in the design and construction of partially or fully configured Systems for turnkey projects in most industrial automation applications.
We cover the complete spectrum of control Systems engineering: design feasibility, hardware and software design, systems manufacturing, commissioning and support maintenance.
Our team of dynamic, highly skilled engineers is flexible enough to develop Systems for any application. Each team member possesses expertise in process control, data acquisition and safety Systems used within a wide range of industries.
SCP Proneq. is based in a modem, specially designed complex in the Montreal area. The city is home to some of the world's top high technology companies. Proneq' s world-wide experience includes designing a metering system for an African utility, designing a safety system on the HIBERNIA platform in joint-ventures with internationally known Salem of the U.K.
Over the last ten years, Proneq bas grown steadily. Our commitment to delivering high quality Systems that meet with total customer satisfaction has earned us a reputation as a rapidly emerging leader in our field.